Ingredients
1 ½ ounce
Meyer lemon juice
1 ½ ounce
clover honey syrup
(warm water and honey in a 1:1 ratio)
1 
sprig fresh rosemary
(about 2 inches)
1 
small egg white
Directions
In a mixing glass, strip the leaves of 2 inches of rosemary and muddle lightly. Add the Meyer Lemon Juice and egg white and dry shake for 5 seconds. Add the Campari and honey syrup and fill with ice. Shake well for 10 seconds and strain up. Garnish with a few petals of rosemary or a short stem.
NUTELLA MARTINI
From The Londoner
\
Ingredients
400ml whole milk (or nut milk if you prefer) 
2 heaped scoops of Nutella
1 heaped spoonful of cocoa powder
3 shots of vodka
2 shots of Frangelico or Amaretto (optional)
Ice 
Extra Nutella & chopped hazelnuts (for serving)
Directions
Gently heat the milk in a pan, along with your Nutella and cocoa powder.
Keep stirring until it's smooth and good 'n' hot!
Leave on one side to cool completely (speed up the process by putting it outside if you're somewhere chilly)
While it's chilling you can prep your glasses.
Spread some chocolate spread onto a side plate, and cover another plate in chopped hazelnuts.
Dip the rim of your glass into the chocolate and twist it 360 degrees.
Once the rim's all coated, do the same in the pile of nuts. 
When your chocolate milk is nice & cold, pour into a cocktail shaker (this is my copper one).
Add your booze.
 Shake it, baby! And pour into martini glasses 
HOLLY JOLLY CHRISTMAS CITRUS COCKTAIL
From Half Baked Harvest 
2
ounces
vodka
1/2
ounce
St. Germain (elderflower liquor)
1/3
cup
fresh squeezed clementine or blood orange juice
ginger beer, for topping
pomegranate arils, for topping
1
sprig fresh thyme or mint
1. Fill a cocktail glass with ice. Add the vodka, elderflower liquor (if using), and clementine juice. Top with ginger beer. Add the pomegranates and thyme or mint. Enjoy!
PEPPERMINT MOCHA CHRISTMAS COCKTAIL
From Threads and Blooms 
Ingredients
2 cups milk
1/2 tbsp sugar
1/4 tbsp cocoa powder
1 pinch of sea salt
3 tbsp looseleaf mint tea leaves
2 oz Baileys
2 oz Kahlua
1 cup whipping cream
sugar/cocoa powder/ sea salt mix for garnish
mint for garnish
Directions
Add 2 cups of milk to a saucepan and bring to a simmer
Steep 3 tablespoons of loose leaf tea or 2 tea bags in the hot milk until the tea is extracted (about 4 minutes).
Mix in the sugar/cocoa powder/salt mix and stir
Pour this mixture into 2 cups and add 1 shot each of Kahlua and Baileys to each drink
Top the drink off with a generous amount of whipping cream
Sprinkle some sugar/cocoa power/sea salt on the top of the drink and garnish with a sprig of mint
BOOZY PEPPERMINT HOT CHOCOLATE
From Hot Beauty Health
Ingredients
⅓ cup unsweetened cocoa powder
½ cup granulated sugar
a dash of sea salt
⅓ cup boiling water
3½ cups 2% reduced fat milk
1 tsp vanilla extract
2/3 cups peppermint schnapps
2 tbsps half and half (optional for extra creaminess)
1/2 cup bourbon
whipped cream (for topping)
dark chocolate shavings (for topping)
Directions
Step 1. Add cocoa powder, sugar, and salt to a medium saucepan and stir together.
Step 2. Stir in the boiling water. Once the cocoa powder and sugar fully dissolves, put over stovetop burner on medium heat.
Step 3. Add milk and let it heat up a bit while stirring occasionally for 2-3 minutes. Don't scorch it though. You should only be warming up the milk.
Step 4. Once warm enough or at your desired heated temperature, remove from heat and add in bourbon, peppermint schnapps, half and half (optional), and vanilla extract.
Step 5. Pour into 4 individual copper mugs and top with a dollop of whipped cream and sprinkle a bit of dark chocolate shavings.
SPICED PEAR MARTINI
From The Kitchn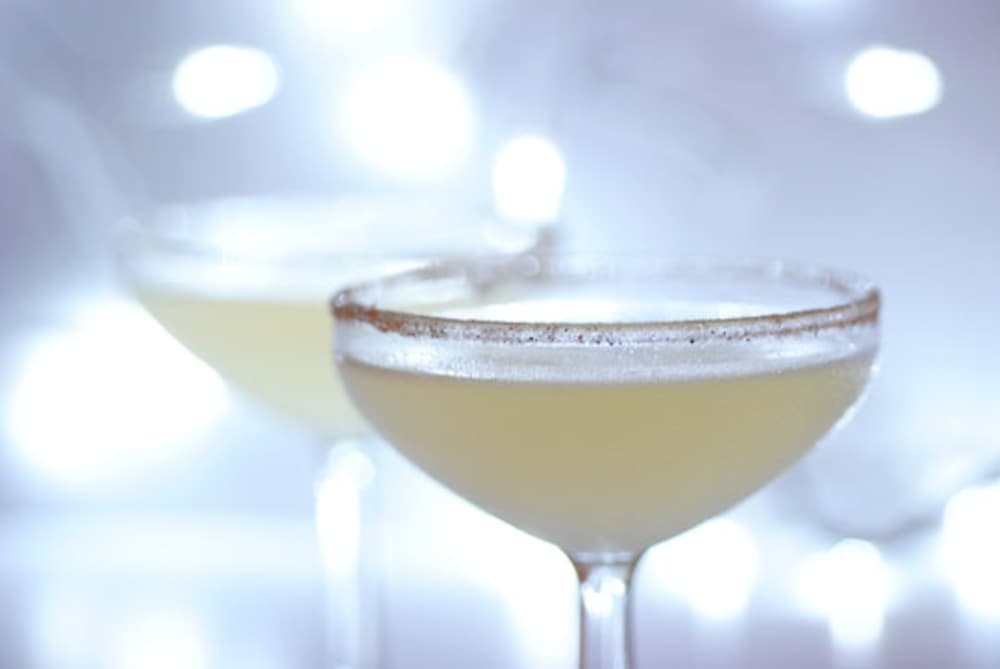 Ingredients
1.5 oz silver tequila
.75 oz 
Poire William eau-de-ie (pear brandy)
1 oz 
fresh-squeezed lime juice
.75 oz 
spiced simple syrup 
Directions
Combine all ingredients in a shaker. Fill the shaker with ice, and then shake and strain into a cocktail glass (rimmed with spiced sugar (see below) if you so desire).
CREAMY GINGERBREAD COOKIE HOLIDAY COCKTAIL
From Made By A Princess 
Ingredients
2
oz
Buttershots Butterscoth Schnapps
2.5
oz
Baileys Vanilla Cinnamon Liquer
2
tbsp
Ginger Syrup
2
oz
Half and half
1/4
tsp
ground ginger
1/4
tsp
ground cinnamon
4
crushed ginger snap cookies
Top with fresh cinnamon whipped cream
Directions
Moisten rim of glass with vodka and dip in crushed cookies
Fill shaker with ice and add vodka, Buttershots, Baileys, ginger syrup, half & half, ground ginger, and cinnamon. Shake well.
Strain into cooked rimmed glass and top with fresh cinnamon whipped cream.
Serve and enjoy.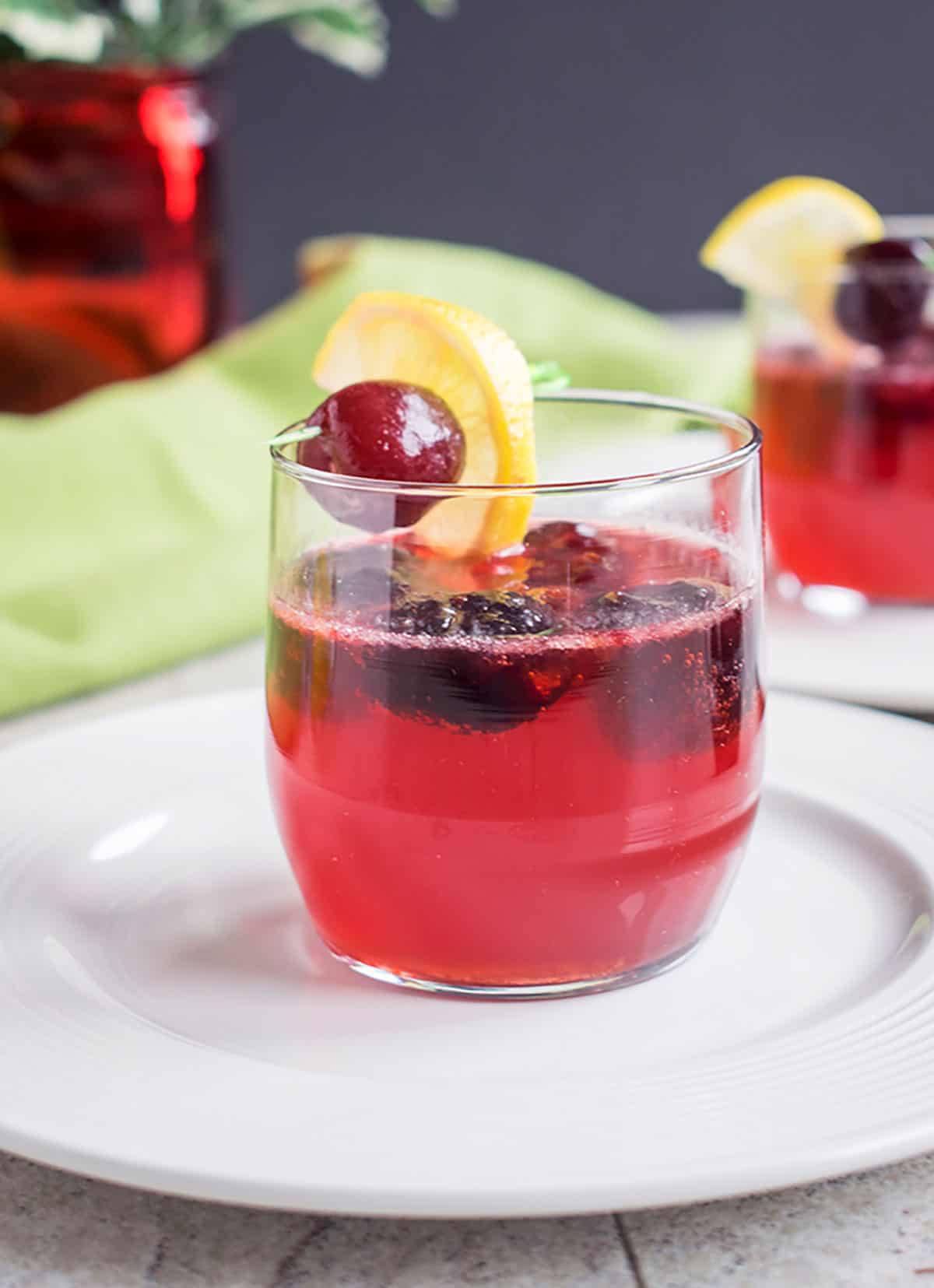 Ingredients
Simple Syrup (enough for 5; see notes)
1/2
cup
water
1/2
cup
granulated sugar
Dark Cherry Amaretto Sour (one drink)
1 1/2
ounces
Amaretto
3
ounces
7 UP or Sprite
3/4
ounce
simple syrup
(cooled)
3/4
ounce
lemon juice
3
frozen dark pitted cherries
(plus 1 for garnish)
slice
of lemon for garnish
(optional)
Directions
Make your simple syrup by heating the water in a small pot on the stove until it's almost boiling. Turn off the heat and stir in your sugar until it's dissolved. Let the mixture cool.
For each cocktail, place 3 frozen cherries in the bottom of a glass. Mash them with a fork. This is important for flavor and to give the cocktail its red color.
Add the Amaretto, soda pop, cooled simple syrup and lemon juice. Stir to combine.
Garnish each drink with a lemon slice and an additional cherry, if desired.
1
ounce
Bailey's Irish Cream
1
ounce
Creme de Cacao
2
ounces
Heavy Cream
1
teaspoon
vanilla
1
Tablespoon
brown sugar
Corn syrup and crushed sugar cookies
optional
Dip the rim of your glass in corn syrup, then into the crushed sugar cookies.
Pour the Irish Cream, Creme de Cacao, Heavy Cream, Vanilla and brown sugar into a martini shaker filled with ice. Shake until well blended.
Pour into a small martini glass. Garnish with a small, homemade sugar cookie, if desired.
Looking for a festive cup to serve your cocktail in?  Check out our personalized Holiday cups
here
!